Thanks to Trop50 for sponsoring my writing about fabulous bloggers. This year Trop50 is granting 50 Fabulous Wishes.
Click here
to enter for a chance to win $1,000 to celebrate a friend with a refreshing attitude about looking and feeling fabulous!
I'm writing today to let you know about a few fabulous ladies that have inspired me. Before I was a blogger I was a reader and I was a reader for quite awhile before I finally became brave enough to become a blogger. The following five fabulous ladies are the reason I was inspired to myself be a blogger.
Heather of WhipperBerry
Heather creates daily eye candy through the WhipperBerry blog and this blog is one that really capture my interest into the world of blogging. Googling of a recipe led me to WhipperBerry and the rest is blogging history. Heather and her fellow WhipperChicks post fantastic tutorials on style, photos, recipes, weddings, home decor and much more. WhipperBerry and Heather inspired me into the blogging and continue to inspire me on a daily basis.
Allison of House of Hepworths
One of my favorite parts about Allison's blog is that you feel as though she is talking right to you and I dare you to get through just one of her posts without laughing. The women is hilarious and her voice screams out loud through the words on her blog. I'm not sure if I visit House of Hepworths for Allison's home decorating tips or just a little bit of Allison's humor.
Jen has a heart of gold and this woman would do anything for anyone else and it is through that philosophy that she has become a success herself. Jen constantly uses her large audience of followers through her blog, Facebook and Twitter to promote others. Jen's blog is full of fantastic ideas from herself and many other bloggers. Through kindness Jen has become a talented and acknowledged blogger.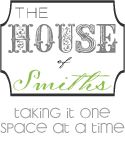 Shelley of House of Smiths
If there was one stranger's house I could just move into and hope they wouldn't notice it would be Shelley's. This women has talent, incredible decorating talent that makes me want to tear down my whole house and start from scratch. I also love Shelley's blog because she is honest, real and confident and all of that shines through in each of her posts.
Stephanie of Somewhat Simple
Stephanie's blog is creativity central. The countless ideas available on her blog could keep a girl busy for hours (not that I know from experience- ha). If you're looking for a teacher's appreciation gift, party idea, kids' craft, or anything else Stephanie's blog is a go to location for creative inspiration. I've had so many times were I've been in that rut, that rut where I have absolutely no ideas and it just takes a few clicks at Somewhat Simple to get those creative juices flowing again.
What bloggers inspires you? I'd love to hear who keeps your writing!