Hello sweet friends of the lovely Lauren! My name is Amy and I am the blogger over at
The Charming
, a general lifestyle blog with focuses on art, inspiration, and wellness -- with a bunch of things mixed in. I am here to give you a glimpse in to my wedding and wedding planning process.
I married my best friend (doesn't everyone say that?) on June 16 of this year (ah, I miss it so much). It was a beautiful weekend from start to finish and we were both overwhelmed by the love and support surrounding us. We felt truly blessed.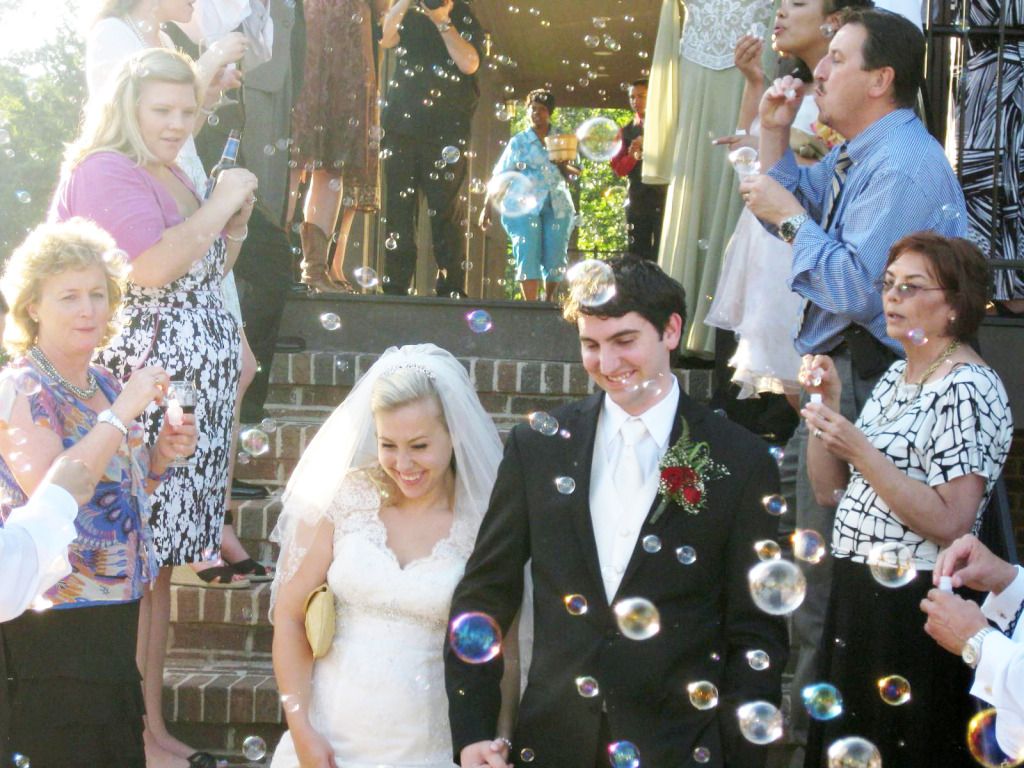 A few details:
Location: just outside of Atlanta, Georgia
Colors: ivory, pale pink, yellow, green, crimson, and brown.
Theme: garden
Ceremony time: 2PM
Cocktail hour included hor d'oeuvres and lawn games
Reception time: 3:30-7:30 PM
After party: at the hotel everyone was staying for the weekend
Wedding Planning
We got engaged exactly 11 months before our wedding date on my birthday (July 16), but we had been discerning our vocation for a few months before that. We had been together for 2.5 years and wanted to get married, but wasn't sure when and if that was definitely what God was asking of us. Well, during the "discernment" process we actually met with Priests and had actually discovered that dates were already booking up more than a year in advance! So, we had to decide if we were serious and get started! We were and we did, and we secretly secured a date with the venues before we were officially engaged (shh.. that's our little secret). We knew we wanted to get married in June because we both have summer birthdays and wanted it to be like a season of celebration.
My husband and I were the first to get married in our families and our circle of friends, so we quickly discovered we were just making it up as we went along! My biggest source of help?
WeddingWire
and
Wedding Bee
. I got checklists, made my own planner, and planned early (something that I ended up being so grateful for later when I started getting sick of wedding planning during the final months). By eight months, we had a date, a Church, an officiant, the reception venue, the photographer, the videographer, and the caterer. I was a busy bee that summer! All that was left was the little details and it was
glorious
, especially since that fall I would start struggling with a few health problems and was in nursing school full time so I was not doing anything for the wedding.
The Little Details
As far as details were concerned, we really wanted to have a wedding that was a reflection of us. We even wanted to brew our own beer (something my husband likes doing), but we ended up not due to cost and time. But, we were still successful in personalizing the reception!


Examples of some of our personal touches:
Childhood pictures of us
Our guestbook was a picture book
I did a picture book out of our proposal for people to look at
Each table name was based on four different landmarks in the places we were born and raised (I was raised in Georgia, USA and he was raised in Zimbabwe, Africa)
The favors were reflective of our heritage (homemade butter cookies from my family, a popular Zimbabwean tea we had to import, and Italian bombonierre with five sugar coated almonds because we both have Italian mothers). I put them in burlap which I hot glued in to a sack and used black screen printing ink and a homemade stamp to personalize with our initials.
We had lawn games (bocce and cornhole)
We made our own Mr. & Mrs. Smith movie poster, with wedding details as our credits at the bottom (eg. Starring us, costarring our wedding party, director of photography was our photographer, etc.)
I handmade the bridesmaid bouquets with some wax flowers (that everyone thought were real!) from Michaels
I handmade the centerpieces: a wooden crate spray painted brown with a mixture of fake and real flowers (real flowers from Sam's Club)
My husband's mother and aunt made the boutonnieres out of flowers from his mother's garden
I designed and printed all the stationery (save the dates, invitations, menus, programs, etc)
We had a photobooth in which I collected assorted props including light sabers, funky sunglasses, various hats, boas, bead necklases, masks, etc - it turned out to be a success with our guests!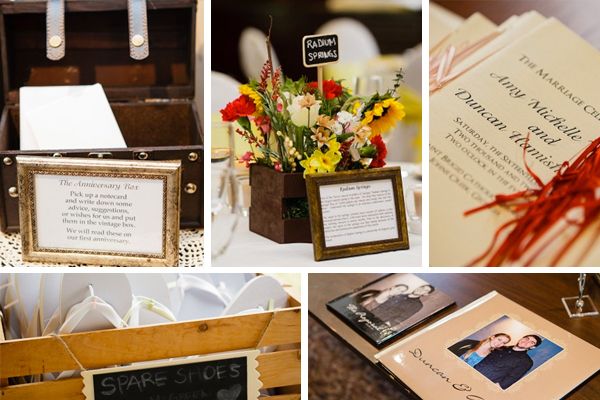 Sounds like a lot of work, right? Well, it was, but I planned and had a lot of fun. I didn't have a lot of help, mainly because I had a schedule that allowed me free time during the week days that no one else really had, but when I was sick, not in school, or had free time while in school, this stuff was so much fun for me to do so it really wasn't a problem. For anyone else, I would recommend maybe getting some help!
My Favorite Memories
The day before I checked in to the hotel around lunchtime, after finishing some last minute things, I met an old friend to catch up then had mimosas by the pool. Ah, it was relaxing!
Walking down the aisle and seeing my husband for the first time, and his smile from ear to ear.
After our vows and taking Communion, we had our first prayer as husband and wife where we prayed for our marriage ahead and for all our loved ones who were able to make it as well as those who were unable for all their various reasons.
Driving to reception, just me and my husband, and looking at him and thinking he somehow looks a million times sexier with a wedding band on -- the tuxedo doesn't help, either :-)
When we first arrived to the reception, we gathered with just our family and the wedding party in a room where we shared some hor d'oeuvres, some drinks (a flask of rum was passed around!), and some laughs before we would join the rest of our guests in the reception. It was amazing and I am so glad that we did this. It was nice to have a few minutes of down time before the hustle and bustle of the reception (I didn't even get to say hi to everyone because it was so rushed!).
The after party at the hotel with some family, the wedding party, and friends. We started around 8PM and husband and I left around midnight. We had drinks, we ordered pizza, sat outside, some smoked cigars, it was just all around so much fun. I regret that I changed out of my dress for it simply because I'm obsessed with my dress and already want to find another reason to wear it, but it was an amazing way to end a wonderful day.
The morning after brunch with all of our hotel guests. Some people were hungover (not us, fortunately!), but it was just one more time to spend time with people who love us and were all gathered together to help us celebrate.
More From Me
For more pictures of the wedding day details, visit
here
.
I had a Tea Party Wedding Shower and you can find pictures of the details
here
.
For my Wedding Registry tips, visit
here
.
For the good and the bad tips, visit
here
.
Thanks for having me, Lauren! I haven't recapped the wedding all in one post before and it was a challenge narrowing it down. I hope it helps all you future brides out there! I hope you all have a wonderful day!
If you would like to share your own wedding story here please e-mail me at elephantstrunk42 @ gmail dot com